Empower English Learners
for Effective Interaction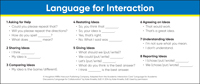 Nearly five million English learners engage in daily instruction in the United States. Interaction is key to helping them accelerate the academic language and literacy skills needed for academic success.
The Language for Interaction card, developed by Dr. Kate Kinsella, can help English learners focus conversations, providing sentence starters to increase class participation.
Fill out the form below to access this essential resource.