Download a Free Language Launch
Lesson Sample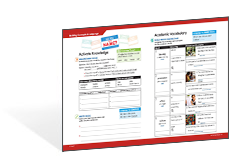 English 3D® Language Launch addresses the specific needs of multilingual learners with three Issues centered around students' identity as language learners and the assets they bring to school. Lessons include:
Relevant topics and texts that activate prior knowledge, connect to content areas, and focus on building a community of language learners

Picture observations, academic discussions, and scaffolded scenarios to practice speaking using grammar targets, language functions, and presentation skills, and more!
Fill out the form below to access this essential resource.