Request your Waggle Self-Guided Demo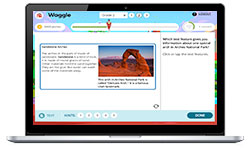 Discover how Waggle extends your core math and ELA curriculum through a comprehensive "smart" practice learning system, consisting of Learning Goals, Lessons, Skill Boosts, and Games for Grades K-8. Explore the guided demo to experience Waggle for yourself!
If you are a U.S. resident, please fill out the form below.
Outside of the United States? Click here.